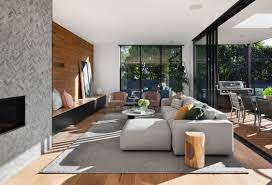 Designing a home structure and giving a physical presence to it is not enough. No one will love to live in a structural home until a homeowner or experienced interior designer makes its inside to live in. When it comes to designing the interiors of an abode, most of you love to contact residential interior designers in Noida or in your local town/city. Hiring an interior designer for home is beneficial. However, it will be more useful and beneficial for you if you have an idea about the types of interior designs. Here are the seven types you should know:
Think of having Scandi or Scandinavian design if you are looking for a simple and cosy decorating style for your home. The concept of hygge is one of the primary attributes of this design style. Here, hygge is a Danish term, which means cosiness. In this style, designers value the simple things to create a sense of warmth in an abode. Here is more on about this design style:
It includes functional furniture pieces that have a good balance of traditional craftsmanship and natural materials.
A home in this design style has wooden floors, white walls, uncluttered surfaces, and personal touches.
In the centre of such an abode, there is a dinning hall where all family members sit and take their meals together.
2. Hamptons
With a strong presence in Australia, this interior design style incorporates natural textures and airy palette. Blue and white are two primary colours of this style. Further, a home styled in this design has plantation shutters, staircases, hallways, windows for optimising cross-ventilation, and timber floorboards. The kitchen in such a home has cabinets with glass paned doors or open shelves and light-coloured engineered stone for countertops.
Visit: Assists Up
3. French provincial
Rustic textures, refined details, and a washed-out colour palette are key features of this classic decorating style for a home. Even being sophisticated, it produces a sense of welcoming and warmth. Here is more on what a French provincial home contains:
Powdery hues
Raw timber & whitewashed wood
Soft textures and linens
Curved furniture
Milk paint walls
4. Mid-century modern
A home designed as per this style may have a streamlined retro look and a classic decoration that were highly popular in 1950s and 1960s and are in trends in today's world. It focuses on functionality and has an enduring appeal. Such a home has:
Natural and organic materials
Sculptural forms
Proper ventilation
5. Industrial
The home with an industrial design style has exposed elements, raw textures, and metal fixtures & finishes. New York houses numerous examples of warehouse apartments that have an industrial design. Such an abode also has a sense of warmth. Such a home has:
Exposed brick walls
Concrete floors or timber floorboards
Unillitarian materials
Neutral base colour palette
Tapeware, artwork, rugs, textiles, and crockery to add colour accents
6. Eclectic
This home interior design has a personal character due to its incorporation of varied elements from different time periods, cultures, and decorating styles. For such a home, you can:
Combine deer antlers with a Moroccan rug
Mismatch a french toile fabric with vintage chairs
Do a through linking and editing of disparate elements via textures and colours
7. Contemporary
A contemporary house has everything, from a classical to modern look and many crosses over aesthetics. It keeps changing now and then. Varying from one area to another or one city to another, it has a combination of art deco, conventional, modern, or futuristic design. In the current world, a home with a contemporary design may have:
Curved lines
Neutral colours
Minimalism
Conclusion
Through different sources and interaction with interior designers, you will come across numerous interior design styles. These styles may be the one relating the ancient times to what is going on now. The best style for your home is what suits you most as per your choice and the space you have in your home. In the selection process, you can discuss the topic with all your family members and people who have recently done interior designing of their homes. You will be capable of deciding what is better for you. However, be very wise and careful in selecting an interior design style for decorating your home.