Technology
How to Edit a PDF on Mac (Including macOS Ventura)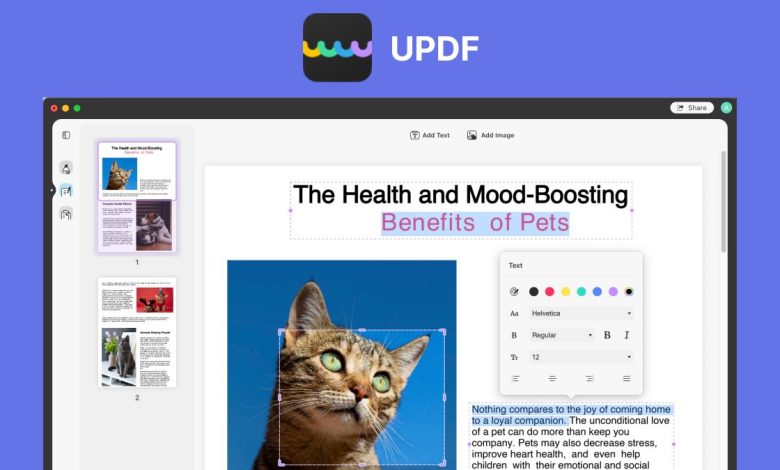 Wondering how to edit a PDF on Mac? PDFs are popular, especially in the professional sphere. PDFs are great for reading, but they may be a pain to work with if you need to make minor edits, add a signature to a form, or send a large file through a service that limits attachment sizes.
Finding a certain word in a PDF can be challenging and altering the document might be nearly impossible using the default PDF viewer. Making edits to a PDF file might be challenging if you don't have the proper tools. Several useful PDF editing programs are readily available and UPDF is the best among them.
How to Edit a PDF on Mac with UPDF
Can I Edit a PDF on Mac? Yes, you can edit a PDF on Mac. There are many ways to do this, depending on what type of editing you need to do. If you need to make simple edits to a PDF, such as correcting typos or changing fonts, you can use the built-in Preview app that comes with macOS. Just open the PDF in Preview and make your changes.
For more advanced edits, such as adding or removing pages, you'll need to use a dedicated PDF editor. There are many good ones available for Mac, both paid and free. Our favorite tool is UPDF.
Whichever method you choose, editing a PDF on Mac is easy and straightforward. So go ahead and make those changes you need to your PDFs. Let's take a look at how to edit PDF on MacBook.
UPDF is among the most well-known and widely used free PDF editors that can be found on the internet. It is not like any other standard PDF reader or editor; instead, it enables you to edit your PDF files using the most recent and cutting-edge technologies.
Using UPDF does not require any prior experience or knowledge of technology. It is nice to users and simple to operate.
If we are talking about the features of UPDF, then it wouldn't be incorrect to claim that it is the all-in-one solution for all of your PDF requirements because it has everything you could possibly need. Here is how to edit a PDF on Mac using UPDF:
PDF Text Editing
To make changes to a PDF, open it in UPDF.
To edit a PDF, select it, and then click the Edit Text & Images button on the left side of the window.
Choose the text you want to change by clicking on it. There will be a purple border around the text. You are now free to edit the content to suit your needs.
For formatting options like font, size, style, alignment, etc., simply select the text by dragging it.
It's important to know that you may switch between Comment and Page mode by clicking the Edit Text & Images icon in the toolbar on the left.
Add rich text to PDFs
When using UPDF for Mac, you may drag and drop rich text from other applications like Safari, Google Chrome, Microsoft Word, etc., to include it into your PDF.
Copying content from other sources is simple for you. In order to import the text into UPDF, simply click and drag it.
Edit Image
In order to make changes to an image, you must first enter Edit mode by selecting the Edit Text & Images button.
To edit a picture, just click on it.
You can flip, crop, remove, or replace the picture using the relevant toolbar. After choosing a photo in the edit mode, you may swap it out by dragging and dropping.
Instead, you can right-click the picture and choose the appropriate features to edit, alter, copy, remove, or extract the image.
So, these are the options for how to edit PDF file on Mac.
You Can Do More Tasks with UPDF
You can do the following task using UPDF as well:
Edit, Read and Annotate
You can easily edit, read and annotate your PDF files using UPDF. It allows you to add comments, strikethrough and underline any text in your PDF documents.
OCR PDF Conversion
The OCR PDF conversion is one of the latest and most regarded feature of UPDF. It allows you to convert your PDF formats into multiple other formats including Word, Excel, PowerPoint and many more.
Efficiently Organize PDF Pages
PDF organizing is really an important part of every business. You can reorder, rotate, add, remove or replace any PDF pages using the organizing feature of UPDF.
Password protect PDF
UPDF allows you to password protect your PDF files easily without any hassle. The protection of your data is important. How do I convert excel to pdf cleanly?
Conclusion
PDF format is one of the widely used formats. It is used in every business and organization. So, you might be looking for the PDF editor for Mac that you can use to edit PDF files.
There are a lot of PDF editors out there, however, we recommend you to use UPDF because it has more features and offers a free version. So, why not use the best PDF editor for all your PDF needs.
Apart from this if you are interested to know about What Is a PDF Document? then visit our Technology category.