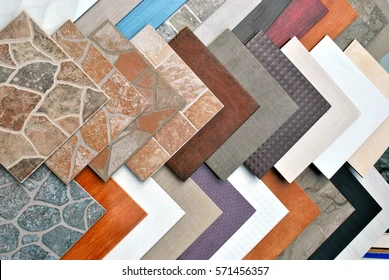 The humble ceramic tile can be used in several ways throughout your home, whether for the interior or the exterior of the house. Thanks to the various ceramic tiles' designs, shapes, patterns, sizes, and finishes, customers like homeowners, architects, and designers have a world of possibilities to choose from.
Ceramic tile flooring in the entryway or shower area is known for creating a gorgeous and functional space. They are also deployed on the walls to create eye-catching accents, which become the room's focal point. Such is the versatility of these tiles that they will seamlessly fit in any space you want. Read on to know some of the most popular places ceramic tiles are laid in!
7 Areas To Use Ceramic Tile in Your Home
1. Kitchen Backsplash
One of the most common spaces requiring tiles is the kitchen area, as it witnesses the maximum amount of spills and variations in temperatures. The kitchen backsplash area is the one to see such splatters the maximum. A great way to save your walls from damage is to add some ceramic tiles. Besides being easy to clean, such tiles are almost impossible to stain. Notably, experts have pointed out that the kitchen backsplash area is the best to add some colour and patterns to brighten up your kitchen. You can quickly go bold with your choices then! Make sure to select the ideal tile for your kitchen.
2. Kitchen Island
Another kitchen area that can definitely undergo a do-over is the kitchen island area. You can use some coloured ceramic tiles to add a pop of subtle colour there. You can also add a pattern to the space, although it is vital to not go overboard. Tiles can also create exciting designs on the sides of the islands, which give a unique and eye-catching look to the space.
3. Bathroom
Ceramic tiles in the bathroom play a dual role – besides making beautiful additions to the aesthetics of the space, they are water-resistant and absorb less than 0.5% water. The two factors render the product extremely functional. The safety of your family is boosted with ceramic floor tiles, as they come with an anti-skid coating that prevents slips and mishaps.
4. Feature Walls
With the days of adding painted accent walls gone, tiled feature walls are the latest worldwide trend. These walls definitely make a bold statement. At the same time, they ensure that the accent wall doesn't overwhelm the rest of the space. Tiles can create a focal point for a simple room or highlight specific architectural details or appliances. Feature walls can notably inject colour and patterns to neutral rooms and create a cheerful space.
5. Flooring
Ceramic floor tiles, known for their high durability, can withstand a lot of wear and tear. Simple ceramic tiles can tone down a 'colour and pattern' heavy space. Its reverse is also possible, as patterned and brightly coloured ceramic floor tiles can be used to inject a dramatic appearance into an otherwise plain space. While several permutations and combinations are out there, one of the latest trends is to create "rugs" using patterned ceramic tiles for a stylish contemporary look.
6. Bar Area
The bar area is a perfect space to add ceramic tiles. As the site is generally small, it is accentuated by the use of patterned ceramic tiles. This helps draw all the eyes towards the space and enhances the environment and the spacious vibe of the place.
7. Entryway
Your entryway is the first impression of your home for the guests. Similar to the importance of a first impression, it is crucial to make it great! Gorgeous patterned ceramic floor tiles can easily create an eye-catching environment. Consequently, the attention of your guests is captured right from the moment they set foot in your home.
Ceramic tiles are super versatile and work well in various spaces ranging from floors to walls to countertops. With the cutting edge technology used to manufacture these tiles advancing every day, ceramic tiles are incredibly durable. They have a high-quality digital imprint that does not fade away with use or time. With such a large variety across designs and colour schemes, it is ensured that there is a tile for everyone's choice.
Author Bio:
Isha Tandon has worked within the architecture and interior design industry as a flooring consultant expert – specializing in tiles, stones, and terrazzo. She has worked with Orientbell Limited, a leading tile manufacturer in India, as a product development manager in the design team and has recently joined the marketing team as their digital content expert. Her experience comes in handy in understanding the audience as she creates value-driven functional & informational content for the readers. She creates lifestyle pieces that focus on interior design products, trends, and processes. She loves to travel to historic places with rich architecture.
Read more: Six Types of Color and Their Characteristics