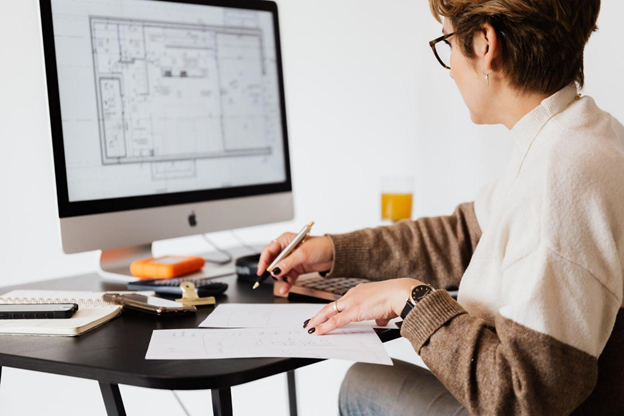 You may already have numerous characteristics that are desirable in an architecture student. However, as you approach your final year, you will almost certainly face the daunting task of selecting a thesis subject.
Of course, there are several themes to pick from, but a personal interest in a specific subject is only one of many elements that should impact this decision.
Other questions students can ask themselves include: Is the issue important enough? Is it sufficiently comprehensive? Is the project possible in the actual world?
Making a thesis proposal for your last year of graduation is thus worth remembering because of the numerous tours to your lecturers, architecture dissertation help, and collaboration with fellow junior architects.
Meanwhile, let's accept that writing a dissertation is an art form, similar to drafting an architectural design proposal. All you have to do is choose the ideal architecture dissertation themes for a remarkable architecture degree.
Consider the point that your architectural plan depends on the demands in future. Therefore, change is the only thing constant. Moreover, it has been established by some internal architects already.
For example, while most 3D printed houses are currently made of concrete, in 2021, the Italian studio MCA printed a home using clay.
Meanwhile, the United Nations programme for human settlements and sustainable urban development estimated that by 2030, 3 billion people, or 40% of the world's population, would demand access to accessible and affordable housing, according to
With so many aspects to consider and strict deadlines, students often make judgments they later come to regret. Here are the pointers to help you make a better decision:
Common topic with an innovative approach
The undergraduate thesis differs significantly from the graduate or doctorate thesis.
As a result, you must first comprehend the rationale for its inclusion in the curriculum.
At the graduate or doctorate level, you will often be asked about the "gap in current knowledge" on the subject and propose an innovative solution to close that gap.
On the other hand, undergraduate students do not have to face them initially.
So, to be innovative at the undergraduate level, you don't have to go out of your way.
You can select a basic imitative topic, but performing it in a way that demonstrates all of your academic knowledge would also suffice.
Think About Your Interests Outside Architecture
Aside from architecture, what else excites your interest?
Consider choosing a theme that integrates your enthusiasm for movies, politics, history, business, technology, or other subjects with architectural design.
A student interested in social welfare and community development, for example, may create a 'Social Development Centre.'
Alternatively, a student interested in technology, business, or innovation might construct a 'Startup Incubator,' a structure that serves as a hub for generating ideas and fostering business growth.
Having a prior in-depth understanding of your issue will aid you in the design process, and a strong desire to learn more about it will keep you motivated in the long term!
Don't get influenced by external factors
Giving in to the pressure of what others might think is one of the most common blunders students make when picking a topic.
For example, students could desire to focus on a topic that seems scholarly, distinctive, or enormous in scope.
While aiming for perfection is a fine thing to accomplish, don't let others believe a thesis should look or sound like a serious and boring matter.
It is your design; even if you select a theme as easy as creating a public library, it still proves your originality and creative approach without worrying about the topic's originality.
Check for trending news
On a typical day, the most you'll have for a company is a drawing board, your laptop, a few books, and coffee.
However, you'll find yourself regularly distracted by the latest YouTube videos or Google's new inventions.
As a result, you might draw inspiration from them while deciding on a topic that interests you.
It will keep you enthused and motivated to work, which will result in a fantastic end product.
Set Your Scope Small
Many students submit to the natural need to accomplish too much by choosing topics or concerns that are too broad and nearly impossible to complete in a short period.
Thus, if you start with the simplest form of a case and add more depth later to the circumstances, it shall work as a good idea.
Recognise Your Strengths
Each student has a unique set of talents and abilities due to their experiences and pursuit of their passions.
You'll be able to pick a topic that best utilises your knowledge if you have a clear awareness of your creative and technical powers and limitations.
Maintain a Balance Between Art and Science
When architecture students romanticise their thesis proposals, they frequently create a dilemma for themselves.
However, blaming them is only half accurate.
But, when you realise that the thesis project is considered as completing a multi-year curriculum rooted altogether in art and theory as it is in constructing technology, romanticism seems coherent.
However, it's vital to choose a topic that balances the two.
A topic that appears to be overly abstract, for example, may make it difficult for the jury to determine a student's understanding of tangible issues.
Look for ideas in your surroundings
What kinds of structures do you have on your campus?
If you go to a prestigious architectural school, it's only natural that the buildings were designed with great thought and care.
While this isn't always the case, many students may feel driven to contact alumni who have worked on design projects.
Keep an open mind
Take a glance around. Always pay attention to what's going on around you.
Never quit discovering new things. A young architect's growth is not restricted to the confines of a university campus.
Instead, they are continuously looking for new ideas and inspiration.
The best method is to get as much as possible on what's going on around you.
Evaluate the topic's future purpose
As a recent architecture graduate seeking a career or applying to graduate programmes, your thesis project is the most critical aspect of your portfolio.
Consequently, your topic selection will be based on your interest in or expertise in a particular specialised field.
As a result, while picking a thesis subject, make sure it corresponds to your immediate intentions.
Attempt to embark on the real-world issue
While many differing viewpoints on architecture's ideal role in society, most people believe that an architect's work impacts how society runs and progresses.
Therefore, young architects can familiarise themselves with the bigger picture.
They can pick a theme that tries to solve a contemporary socio-environmental problem by designing intervention in a society grappling with serious concerns such as climate change, population expansion, and so on.
Talk to a friend
Working on the same topic with enthusiasm on your project guide from time to time tends to confuse your thinking.
On the other hand, getting out of your mind might assist in acquiring an outside viewpoint from someone completely unrelated to your project.
It may be a trustworthy friend, a respected elder, even your non-architect parents!
They are typically more tolerant and open-minded, and they are the ones that help you get out of your exhausting head.
Use your learnings from the architecture school
The thesis shows your style and what you believe in as an architect, and it is a synthesis of all you've learned as an architecture student.
Furthermore, everything you've learned in architecture school—from bamboo workshops to sustainable building technology seminars to computational design courses—has influenced your final design, even if you don't realise it!
Don't let minor setbacks distract
Keep the end goal in mind. Your guide and you might have a variance in ideas.
Your jury might think your design is immature/disagreeable/impractical, but don't let that get you down.
Take criticisms respectfully, analyse your progress from time to time, and then stick to them.
It's your design, and you are the one to keep it going.
It will be a long, rough journey, but there is a lot to learn, not just from the final result but also from the entire process.
The thesis project reflects your design abilities and how you handle any major project in your life.
It will teach you to be relentless in pursuit of your dream.
It will make you go through different moods and, in the end, strengthen bonds with your professors.
Use university libraries
Libraries are a great place to look for previous research on your topic.
To begin, go through encyclopaedias, books, articles, and the internet for broad information.
Then, look through the ample web resources once you've figured out how your chapters relate to your study genre.
Meanwhile, make a list of relevant sources to your interests.
For example, the references in journal publications are usually the most reliable sources for your topic.
Looking for other literature authored by an author is a good strategy for identifying important subjects for your thesis.
Remember to jot down critical data for your study as you're reading.
Reading the abstracts of articles and the prefaces, introductions, Tables of Contents, and footnotes of volumes will also help you narrow down the important material to your research.
Test your idea before you commit to it
Make sure you have the necessary resources, knowledge, and skills to complete all parts of your thesis project.
If you don't have what you need right now, do some study to be sure you'll be able to get it shortly.
Create a mini-experiment or send out a survey to put your main ideas to the test if you have the resources.
Use the information gathered during this first testing step to fine-tune and finalise your thesis notion.
It will give your topic more depth and accuracy while also showing any weaknesses or holes in your plan.
Make a swipe file with a list of keywords in it
A swipe file is similar to a scrapbook in that it comprises a collection of materials that will come in handy in the future.
You may, for example, include links to online pages and blogs, industry magazine excerpts, and quotes from your lecturers.
Add it to your file if it pertains to your theme, prompts further in-depth thought, or may lead to fresh ideas that add dimension to your project.
You should also establish a list of keywords that reflect subjects you want to learn more about.
Use this material to assist you to come up with topic ideas for your thesis, and then use it to help you finish it.
Even if you think it's far-fetched or you're not qualified to do it right, every thought that comes to mind should be included in this list.
You never know when a fleeting thought may grow into a viable thesis topic.
Being an architect gives you exposure to a profession of both art and technology. The thesis being one of the significant elements in your final year, follow these tips, and you can find your way for a tremendous architecture thesis topic.
Author Bio
Rose Haughes has a PhD in the field of Architecture and offers lectures in a renowned college in the U.K. She also provides architecture dissertation help at MyAssignmenthelp.com. In addition, Becker loves to read books and make her designs.
Read More: Market Research Methodology Used for Phd Dissertation