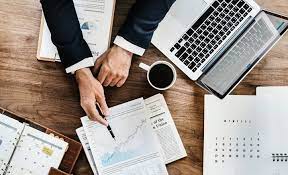 If you've ever imagined working as an independent IT consultant, now could be the ideal time to take the plunge. Small firms employ roughly half of the workforce in the United States, and many of them engage IT consultants because they can't afford to recruit a full-time IT crew. IT consultants and contractors are frequently used by larger firms to perform a variety of projects.
What is the role of an IT consultant?
An IT consultant is responsible for everything from computer repairs to network management and upkeep. IT consultants are often divided into three categories:
Project management
Repair and maintenance
Security
An independent IT consultant, on the other hand, can specialize in a variety of areas.
Consultant in IT project management
Project management IT consultants are sought after by business owners and managers for answers and solutions to their difficulties. Your prospective client has a concept but has no clue how much it will cost or what it will entail. It is your responsibility to fill in the blanks and, if necessary, oversee the operation. You may be required to offer a cost analysis as well as a project scope that includes information on your IT solutions. Once the project is underway, you may be entrusted with managing the team and tracking benchmarks.
Consultant in maintenance and repair
An IT consultant that specializes in maintenance and repair helps with hardware and software issues on individual computers as well as bigger networks. Smaller and mid-sized businesses frequently hire consultants for this type of work on a retainer basis so that they can respond swiftly to problems that disrupt routine operations.
Consultant in IT security
As cyberattacks target all types of enterprises and local, state, and federal government agencies, IT security consultants, also known as cybersecurity experts, are becoming increasingly crucial. These experts are typically on the front lines of cybersecurity, offering advice and solutions to businesses looking to protect their digital assets. It's possible that you'll be requested to set up firewalls, install virus protection, and ensure that networks are secure against hacker efforts. If a data breach occurs, you may be requested to develop and implement a reaction and recovery plan.
What qualifications does an IT consultant require?
A bachelor's degree in computer science, information technology, electrical engineering, or a similar field is often required of IT consultants. Many IT workers, on the other hand, have forged their own routes through the use of web resources, specialized training, and certifications.
It's critical to have a good foundation in the principles of programming, databases, and networks, regardless of how you develop your IT experience. New technologies and possible dangers to your clients are constantly evolving, so being up to date on recent changes is critical. That requires not only understanding what's changing, but also understanding how it will influence your customers.
Trade magazines and websites can be a great way to keep your knowledge up to date. IT conferences may also help you keep on top of the market by allowing you to learn new skills, network with like-minded individuals, and expand your client base.
Getting some IT experience
After you've honed your skills, you'll need experience. Before venturing out on your own and investigating IT consultant options, multiple small company associations recommend working as a computer support professional or IT technician for two to five years.
This not only gives you time in the field, but it also allows you to make contacts in the industry, which is akin to attending conferences. Furthermore, it demonstrates to them that you have firsthand experience delivering solutions for real-life circumstances similar to theirs.
If you're certified, it demonstrates to clients that you're an expert in your field. Being certified as a Microsoft Office User Specialist or an Apple Certified Support Professional, for example, may help you stand out from other IT consultants applying for operating system employment.
Creating a company
Starting an IT consulting firm necessitates a completely different set of abilities than you currently possess. If you had a full-time job in the past, the company you worked for most likely recruited individuals who were in charge of bookkeeping, compliance, and office administration. All of those obligations rest on your shoulders as an IT consultant unless you extend your staff.
Determining your business classification – sole proprietor vs. LLC or corporation – and how you will pay taxes to the IRS is a key step on your route to becoming an IT consultant. Keeping track of all forms required to register your business and handle sales tax, as well as your individual income tax filings, is critical.
To ensure that your business is feasible, you'll also need to analyze your expenses and earnings.
Do you want to run your business from a storefront or from your home? Working from home will save you money on overhead. However, you will need to decide how to advertise your IT consulting business and set aside funds for advertising, which will include purchasing a domain name and creating a website. All of this establishes your brand and how potential clients will perceive it.
Before you embark on your first customer, you should specify these specifics in your IT consultant business plan. Learn more about how to start an IT firm with Insureon's article.
After you've determined your expenses and created a budget, you'll need to figure out your salary. The average IT consultant income, according to PayScale, is $77,042. A $33.60 hourly salary for an IT consultant is also listed on the website. Depending on your expenses, the services you provide, and the cost of living in your market, your rate could be greater or lower.
When working with long-term clientele, it's ideal to employ an hourly rate, according to the site. A set fee only works when you have a well-defined project with a start and end date as well as tasks that will not vary from beginning to end.
Growing and safeguarding your IT consulting Firm
You'll need to locate clients to develop your business once the core pieces of your firm are in place and you're putting your business strategy into action.
Updating your resume and posting it on job sites is a simple first step. It should be no more than one page long, and it should emphasize your professional experience in information technology. Some consumers looking for IT consultants will find you on these sites, but you'll be doing the majority of the searching. Enter keywords into the employment site's search engine to see what opportunities are available. Use keywords like "consultant," "freelancer," and "specialist."
You should also reach out to people you know in the industry and your network. They can tell you about firms looking for independent IT consultants, both large and small.
Insurance for IT consultants provides safety and benefits.
IT consultant business insurance has two primary advantages: it protects your financial investments and it might assist you in finding new clients.
IT consultant insurance demonstrates to potential clients that you are serious about safeguarding your company and their sensitive data. Many clients may also want particular coverage, such as technological errors and omissions insurance or general liability insurance, to safeguard their company in the event that you make a mistake or cause financial damage. If other consultants on competing bids do not have an active policy, they may be at a disadvantage.
Final Thoughts
Taking on the role of IT consultant is an interesting way to advance your career. You can construct a satisfying career in the sector by focusing on important abilities and developing relationships with the right clients. Be truthful about your readiness and niche, methodical in your approach, and specific in identifying, meeting, and addressing your objectives. The actions outlined above are an excellent place to begin. Best of luck!
Contact a digital transformation consultant to know the opportunities and Scope.
Read More: Some Things The Students Should Do In The Canadian Winters